By Nicole Slaughter Graham | Jul 31, 2018
What's my HOME WORTH in today's market?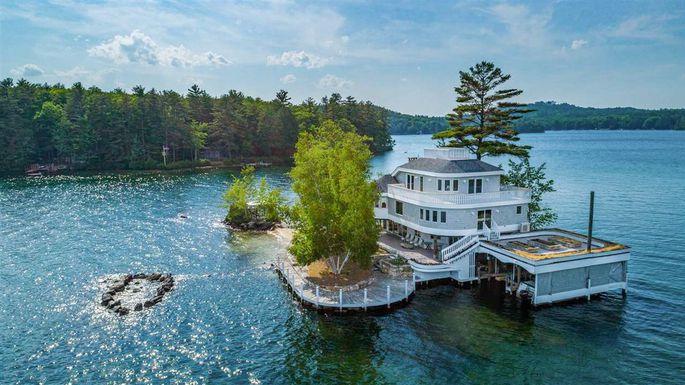 realtor.com
We've all had that moment—the one where life becomes a bit too stressful and living on an island far, far away from civilization seems oh-so-appealing.
For those of you who know this experience all too well, Welcome Island—situated in Lake Winnipesaukee in New Hampshire—offers a once-in-a-lifetime opportunity.
"It feels like a tropical oasis," co-listing agent Becky Fuller says of the island, which is now on the market for $2.2 million.
Lake Winnipesaukee is New Hampshire's largest lake, at 72 square miles. There are 264 islands on the lake, but Welcome Island is the only one on the market offering a move-in ready, custom home.
Welcome Island is one of the first island and waterfront properties to be developed at the lake, according to the current owner, Robert Brown.
"The Belknap Country Registry of Deeds has a record of the island being sold December 1893," Brown says.
You'll need a vessel to move in. "The house is reachable by boat only," Fuller says, "which makes for an incredibly unique way to experience Lake Winnipesaukee."
Brown currently has a private dock slip in Meredith, which is about 10 minutes away from Welcome Island. Two other access points are available: Meredith Town Docks, which is about 15 minutes away, and Weirs Beach in Laconia.
realtor.com
Welcome Island's three-story home measures 3,434 square feet. It includes a master suite with an oversize closet and bathroom, and two bedrooms are located on the top floor. The customized home interior features curved walls and large windows to take in the scenery.
"You feel like you're on a ship when inside," says Fuller.
realtor.com
realtor.com
"Considering all the features it has—thoughtful design, spectacular panoramic views, low boat traffic, natural sandy beaches—it truly is a one-of-a-kind property," says co-listing agent Mark Ashley, who specializes in island properties.
There's an abundance of outdoor space to sunbathe, fish, take in the views, and relax with friends and family. Atop the home is a widow's walk, which is perfect for taking in the beauty of the night sky or the lake on sunny days.
A gazebo and separate deck offer plenty of outdoor space for entertaining with friends or relaxing alone. Another deck follows the outer curve of the island, creating an ideal spot for fishing.
realtor.com
realtor.com
The island also attracts an abundance of wildlife. Brown spoke fondly of the animals he's seen there, including deer, a moose, and a family of minks.
"One afternoon, a duck walked up the ramp, across the deck, and into the living room," he recalls. "It took a look around and then made its way back to the water."
Why the duck swam away is a question for the universe. If we were lucky enough to land on this welcome respite, we'd never want to leave.
We hope you enjoyed this post. Contact us today for all your real estate needs.
What's my HOME WORTH in today's market?
Oh, by the way … if you know of someone who would appreciate the level of service I provide, please call me with their name and business number. I'll be happy to take great care of them.
Keller Williams "Highest in Customer Satisfaction" distinction among sellers and buyers – J.D. Power and Associates