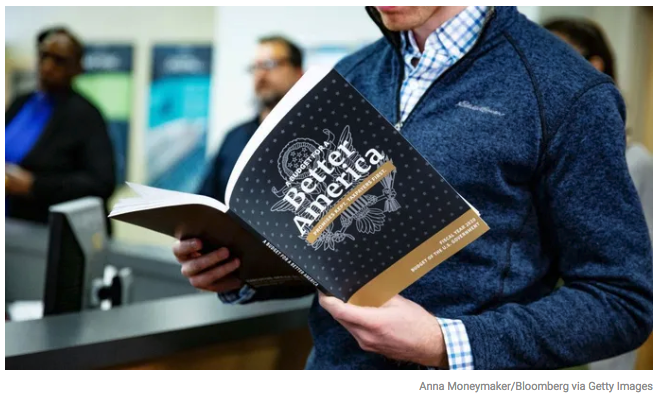 President Donald Trump just dropped his proposed budget for 2020, and it's no surprise that the big winners are military spending, efforts to combat the opioid crisis, and $8.6 billion for his long-desired wall along the U.S.-Mexico border. But many other domestic programs didn't fare as well, including housing for lower-income American families.
Despite high housing costs across the nation, Trump wants to slash the U.S. Department of Housing and Urban Development's budget by $8.7 billion—or 16.4%—next year. That would bring HUD's total in gross discretionary funding to $44.1 billion in 2020. HUD programs assist low- to moderate-income households to afford rental housing and buy homes. The agency also enforces fair housing laws.
Some of the biggest changes would include requiring those receiving federal rental assistance to shoulder more of their own housing costs, a plan that would be phased in over six years. It would require adults, except the elderly and disabled, to work at least 20 hours a week or attend training or educational activities.
State and local grant programs would also take a significant hit in the $4.75 trillion federal budget, which if it passed would be the largest in history. The proposal would also eliminate the Community Development Block Grant program and other grant programs that provide money to help struggling neighborhoods create and preserve affordable housing, as well as to install new infrastructure and carry out economic development projects.
"For generations, the idea of the federal government providing housing assistance meant only one thing—helping to pay the rent so families can have a roof over their heads," HUD Secretary Ben Carson said in a statement. "But we must also think about how we can help families to access financial programs, educational opportunities, and higher paying jobs. In short, we must think beyond investing in bricks and mortar, and think about investing in people."
The cuts, spread around most domestic federal agencies, are a way to pay for the border wall and still balance the federal budget in 15 years. But not everyone was a fan of the proposal.
"The proposal would reduce housing benefits for the lowest-income people by slashing federal investments in affordable homes, increasing rents, and imposing harmful work requirements on America's struggling families," Diane Yentel, head of the National Low Income Housing Coalition, said in a statement. "If enacted, it could leave even more low-income people without stable homes, undermining family stability, increasing evictions, and, in worst cases, leading to more homelessness."
There's no reason to panic just yet. Congress—which has to sign off on the plan—typically doesn't approve such painful cuts. Last year, Trump tried to slash HUD's budget 18.3% to get it down to $39.2 billion in 2019 by shifting some of the financial responsibility to state and local governments and the private sector. Instead, this year's budget is about $52.8 billion.
"Basically, they're reshuffling the cards," says Ken Johnson, a real estate economist at Florida Atlantic University in Boca Raton, FL. "It's shifting a significant amount of the financial burden from the federal level to the state and local level."
To allay those fears, the administration pledges in the budget that HUD will continue providing rental assistance to the 4.7 million low-income families it currently helps—but says this would be funded by the work requirement and increased rent. But some housing experts are skeptical.
"The cost of sustaining rent vouchers goes up every year," says Douglas Rice, a Washington, DC–based senior policy analyst at the Center on Budget and Policy Priorities, a nonpartisan research and policy institute. That's because landlords typically raise rents—something that this budget doesn't seem to account for, Rice says.
Still, there were some brighter spots for housing in the administration's plan.
HUD could receive $20 million to update the Federal Housing Administration's information technology systems. This would be paid for by "a modest fee" imposed on the lenders who work with the agency.
The president is also requesting $270 million for emergency solutions grants, which would help communities provide emergency shelter for the homeless. He's also asking for $90 million to help connect low-income families assisted by HUD with social services and employment resources.
And the budget would also increase funds to some other programs, including $290 million to reduce lead-based paint exposure, Carson's cause du jour. That's $60 million more than in the previous year.
"Research has shown that lead-based paint hazard control is an efficient and effective approach to reducing and preventing lead exposure, generating high returns on investments due to increased lifetime earnings and reduced medical costs," the budget states.
We hope you found this post informative. Contact us today for all your real estate needs.
Oh, by the way … if you know of someone who would appreciate the level of service I provide, please call me with their name and business number. I'll be happy to take great care of them.
Keller Williams "Highest in Customer Satisfaction" distinction among sellers and buyers – J.D. Power and Associates