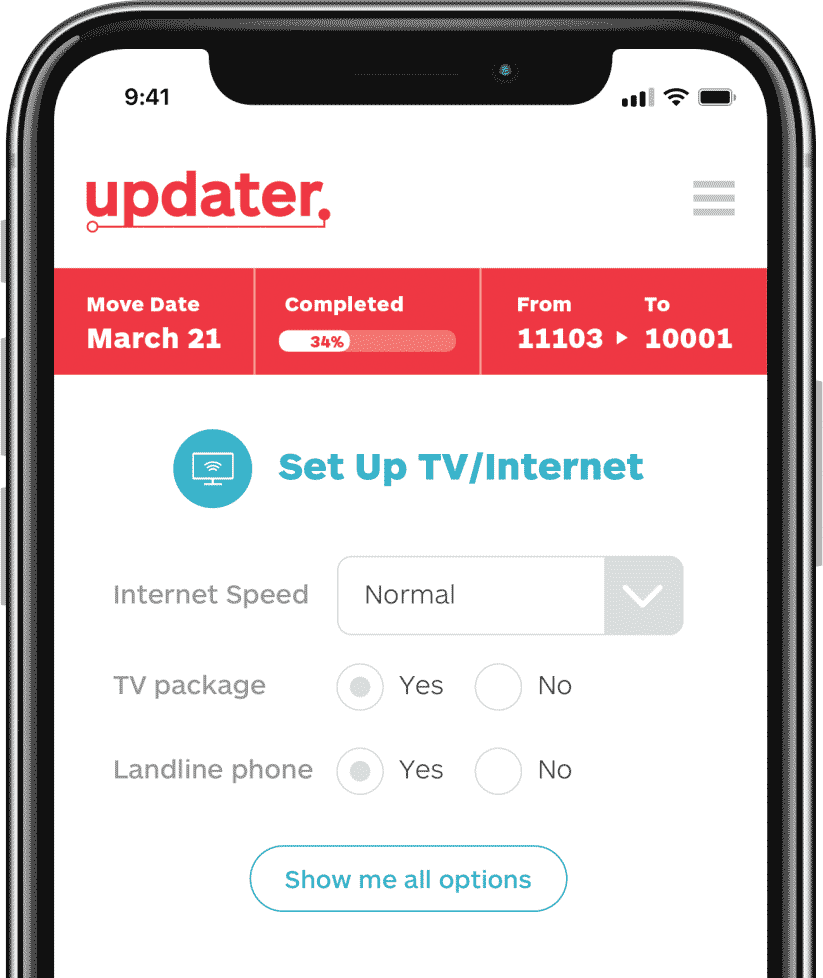 You're moving.
Don't freak out.
A moving app to help you
tackle everything in minutes.
When it comes to moving, the struggle unfortunately isn't over once you've found your new home. Whether it's changing your address, finding home service providers, or simply packing up your life into boxes, every step of the moving process is tedious, time consuming, and downright stressful.
To help simplify your move, I'm offering Updater to all of my clients! In case you haven't heard of it, Updater is a web app that allows you to save time – and stay organized – during the moving process.
HERE'S WHAT YOU CAN DO WITH YOUR UPDATER ACCOUNT:
Connect Utilities & Home Services
Updater connects you to the utilities providers you need to set up in your new home. Additionally, Updater's personalized Moving Concierge helps you find the best deals on Internet, cable, phone, and other home services in your area. Updater can even schedule installation on your behalf!
Find and Book a Reputable Moving Company
Updater helps you compare, schedule in-home estimates, and book trustworthy, pre-approved moving companies.
Forward Your Mail
Save the trip to the Post Office by filling out your official USPS mail forwarding form directly within Updater.
Update Your Accounts and Records
Frequent flyer accounts, alumni associations, magazine subscriptions — Updater makes it easy to notify the businesses and organizations you care about of your new address.
Send Moving Announcements
Don't forget to keep friends and family in the loop! Updater's digital moving announcements let you add a personal message and even link to your new address on Google Maps.
Claim Exclusive Moving Deals
Updater helps you compare, schedule in-home estimates, and book trustworthy, pre-approved moving companies.
Moving is stressful enough as it is, and I hope that offering Updater will make the process a little bit easier!
Contact me today for all your real estate needs.
– Kurt Davidson
"The Best Home Search Real Estate App" – Click HERE!
What's My Home Worth? – Click HERE!
Oh, by the way … if you know of someone who would appreciate the level of service we provide, please call us with their name and business number. We'll be happy to take great care of them.
Keller Williams "Highest in Customer Satisfaction" distinction among sellers and buyers – J.D. Power and Associates.